The Daisy Airgun Museum, located in downtown Rogers, Arkansas, is a non-profit corporation which preserves and promotes vintage products and artifacts of the historic Daisy company while serving as a national tourism destination for Daisy fans and collectors.
The success of the Museum is dependant on admissions, product sales, donations and memberships. We invite you to join the "Friends of the Daisy Museum" to help us maintain this wonderful facility for future generations.
Do you want to know more about your old Daisy?
Welcome to Rogers Arkansas!
If you can come to Rogers, Arkansas, we'd love to meet you and to hear your Daisy story. If you can't make the trip right now, we're hopeful that this website will serve as a virtual tour for you and that you too will read our history, visit our online giftshop, share your story with other online collectors and even pick up an exclusive limited edition collectible.
Planning a visit to Rogers to see the Daisy Airgun Museum?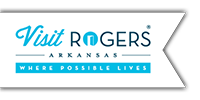 Click here to see other local attractions and plan your visit.
35th Anniversary Christmas Dream BB gun!

It's been almost thirty-five years since Daisy modified the world-famous Daisy Red Ryder BB gun , adding a compass and sundial to the stock, to create the "Christmas Dream" edition in 1983. The Daisy museum has created 2,500 numbered guns with those features.

The American wood stock is engraved on the right side with the Red Ryder signature logo. The left side of the stock is laser engraved "35th Anniversary A Christmas Dream, 1983 - 2018" with an engraved sundial, and has a compass with bezel inset. The left side of the wood forearm is engraved "A Christmas Dream #### of 2500." Each gun is numbered 0001 of 2500 to 2500 of 2500.

As of October 27th only guns 0001 to 1000 have been built and our Friends of the Museum have been given the opportunity to purchase their Friends numbered gun. (Guns 0001 and 0002 are, as with any limited issue gun, are part of the Museum's collection.) All numbers not spoken for are available on a first come first served basis.

The gun features a die cast metal cocking lever and a natural copper plated forearm band. It comes in a plain kraft package with label and a authenticity card. Priced at just $69.99 they make a nice addition to your collection, an heirloom for family members - and the perfect Christmas gift.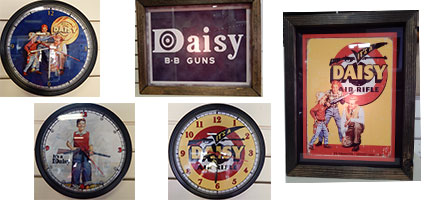 We just added some new items to our gift shop, including different clocks and backlit signs.Click here to view more!

Each year, we create a Daisy Model 25, laser engraved with an image from Historic Downtown Rogers, Arkansas. This 2017 edition features a vintage light post that is in front of the old library building. We pledge to only make and sell 500 of these guns before retiring the issue. Many years, far less guns are made and sold, making this gun one of the most limited collectibles in the Museum's history. Come see the unique architecture that makes Historic Downtown Rogers so quaint. Click here to view more!
God has blessed America!

Stand up, show your support, and pledge your allegiance to our country with this genuine Daisy Red Ryder BB gun. The stock is laser engraved with the American flag and the text of our Pledge of Allegiance. Click here to view more!
2nd Amendment Red Ryder - Engraved with your name.


Because a Daisy BB gun is just about everyone's first gun, it could just possibly be the most important gun in the world.
Click Here For More
Daisy Commemorates the 100th Anniversary of the Model 25



Next to the Red Ryder, no other model of airgun is more closely identified with the Daisy brand than is the Model 25, pump gun.
Click Here For More
Red Ryder State Guns



Now you can own an authentic Daisy Red Ryder with your choice of state name with state shape and official motto laser engraved on the left side of the stock. Click Here For More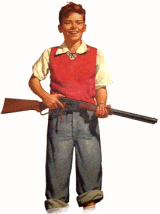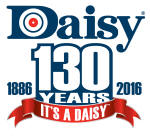 Click this Daisy 130th Anniversary logo to view and order one of Daisy's special limited edition collectibles!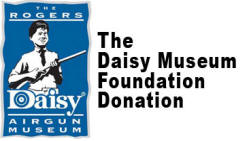 The board of directors of the Rogers Daisy Airgun Museum, a 501(c)3, requests that you consider a donation to the Museum's foundation.
Our long-term goal is that the annual asset improvement of a growing foundation would, someday, entirely underwrite the Museum's operating expenses.
Click Here for The 2017 Northwest Arkansas Visitors Guide